Men's waxing is the most popular treatment in the salon. In today's world, men's waxing is just a normal everyday treatment – lots of men take pride in their appearance.
Waxing is an effective way of getting rid of unwanted hair without any stubble left behind. Hair removal creams and shaving sensitise your skin and leave stubble behind. Waxing achieves a smoother result as the hairs are removed from the follicle.
Whether you want to tidy your brows, remove unwanted hair on your back, chest, or even toes; any body hair can be waxed!
Please read the FAQ page before you book your appointment.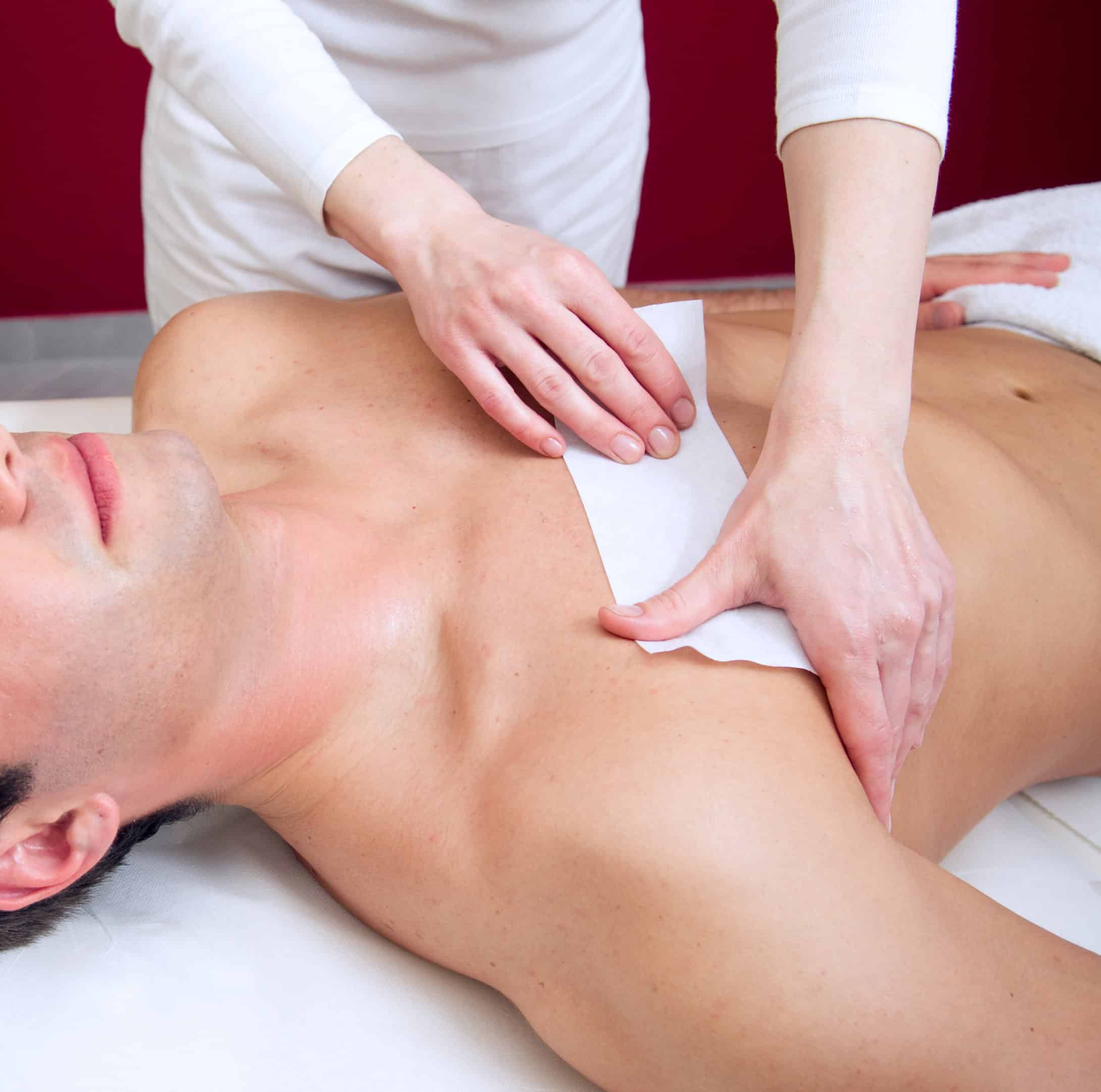 | | |
| --- | --- |
| Back & Shoulders (to sleeve) | £37.50 |
| Back & Shoulders (to elbow) | £41.50 |
| Back only | £32.50 |
| Abs only | £23.50 |
| Chest only | £23.50 |
| Chest & Abs | £41.50 |
| Lower Back | £17.50 |
| Nape of Neck | £16.50 |
| Upper Back & Shoulders | £29.50 |
| | |
| --- | --- |
| Underarms | £16.50 |
| Full Arms (including hands and fingers) | £28.50 |
| Half Arms Upper or Lower | £23.50 |
| Hands & Fingers | £11.50 |
| Full Leg (including feet) | £41.50 |
| Half Leg Upper or Lower | £26.50 |
| | |
| --- | --- |
| Speedo (Crease of thights) | £26.50 |
| Full Brazilian – all hair removed front and back | £61.50 |
| Boyzilian – all hair removed front only | £51.50 |
| Buttocks | £21.50 |
| Crack | £23.50 |
| Buttocks & Crack | £36.50 |
| Scrotum and penis | £39.50 |
| | |
| --- | --- |
| Eyebrows | £15.50 |
| Nostrils | £11.50 |
| Ears | £11.50 |
Men's Money Saving Combos
| | |
| --- | --- |
| Eyebrows, Nostrils & Ears | £32.50 |
| Back, Shoulders, Chest & Abs | £69.50 |
| Back, Shoulders, Buttocks & Crack | £68.50 |
| Back Shoulders & Brazilian | £90.50 |
| Back, Shoulders, Chest, Abs & Brazilian | £131.50 |
Men's Pampering Treatments
30 Minute Energising Facial


cleanse, exfoliate, face mask

£36.50
60 Minute Relaxing Facial


including hot towel and face mask

£66.50
20min Facial & Scalp Massage
£26.50
30min Indian Head Massage
£36.50
45min Indian Head Massage & Facial
£51.50
Men's Express Manicure


Cuticle tidy and nail trim

£21.50
Men's Full Manicure


Cuticle tidy, nail trim, exfoliation, massage, nail buff

£31.50
Men's Express Pedicure


Hard skin removal and toe nail trim

£31.50
Men's Full Pedicure


Hard skin removal, toe nail trim, exfoliation, cuticle tidy, massage

£41.50